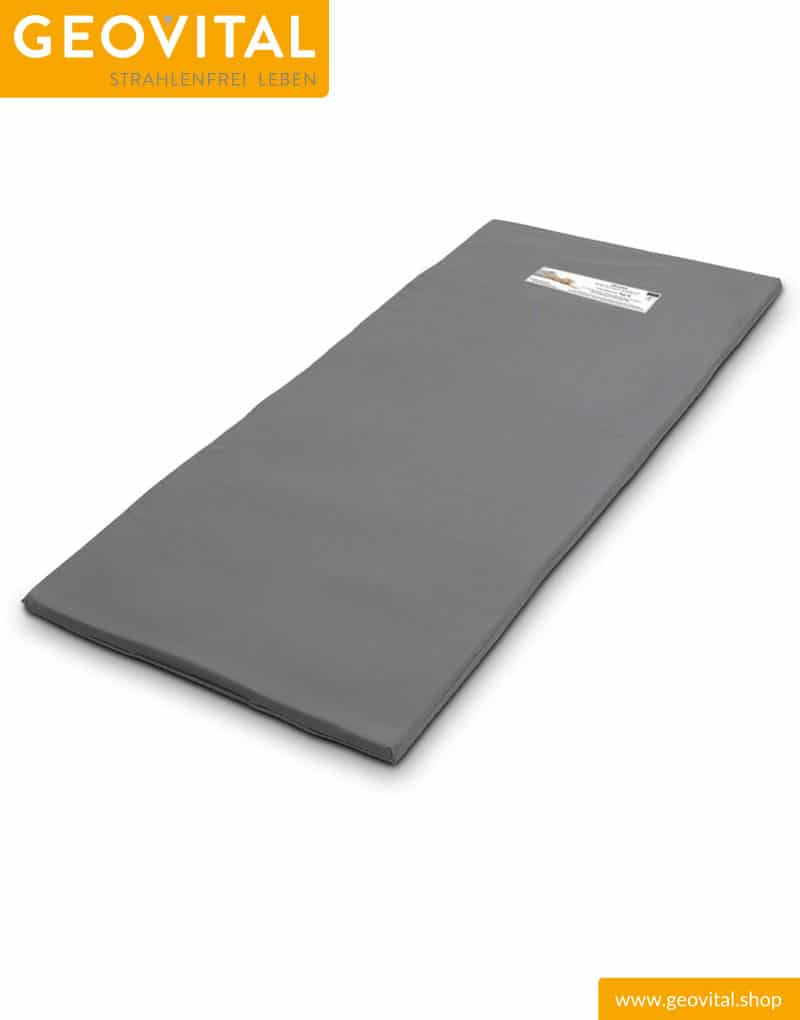 GEOVITAL Geopathic Stress Mat - Typ III
Earlier, beds were moved for radiation protection, but this hasn't been the standard method for over 25 years now...
Available, delivery time: 2-5 days
Product number:
GSM3-2017-002
Earlier, beds were moved for radiation protection, but this hasn't been the standard method for over 25 years now...
Nowadays, there are better and more efficient solutions that work reliably and permanently. Whereas people used to have a lot of space in large flats and houses, today living space is increasingly scarce and increasingly expensive. Moving beds is almost no longer possible in terms of space and often not even desired.

In order to do justice to this, GEOVITAL radiation protection has been a proven and practicable solution for 35 years.

The dipolar oscillating circuit systems create interference to the radiation and thus establish a resistance. The radiation meets this resistance and looks for a new path. In a normal bed, this means that the excess radiation is guided around the bed by about half a metre. This guarantees a radiation-reduced zone in the sleeping area.
Important:
Radiation protection must never reduce the residual radiation in the sleeping area to ZERO! The shielding intensity must be selected in such a way that the radiation protection allows a residual radiation of 400 stimulus units to pass through, as this is the natural milieu that humans need. Too much is bad because it is pathological, but too little is also bad.
Metals influence the function of the radiation shield! The oscillating circuit systems work fine as long as there are no interfering factors. All large-surface metals (everything over 1 metre long or directly above up to 1 metre high) interfere with its work. This includes metal beds, metal rails on which the slatted frame rests and metal centre supports on wider beds (e.g. IKEA), electric slatted frames, slatted frames with metal frames, spring mattresses and mattresses with silver threads (e.g. Wenatex), as well as heaters on waterbeds. Screws, angles and small metal feet are ok...
Strong magnetic fields also influence the function! Transformers, overhead power lines or wires in the street can produce strong magnetic fields. Values of over 400 nT in the house can cause problems with radiation protection. This must be measured and ruled out.
Do not bend the oscillating circuits! The radiation shield has 3 or 4 oscillating circuit systems inside. For transport or shipment, the radiation shield can be bent and laid between the oscillating circuits. NEVER at the positions where the oscillating circuit is welded and glued! This would tear it out of its anchorage and it would be broken. Therefore, please always choose the place under the bed so that no mechanical manipulation can take place (do not place any roller boxes under the bed, do not bend any corners).
Never place radiation protection between slatted frame and mattress! If you calculate a 70 kg sleeper, plus a 20 kg mattress, 90 kg would press the radiation shield onto the slatted frame at this position. The risk of the slats or clasps of the slatted frame damaging the oscillating circuits would be very high! Please avoid this and always place the radiation shield on the floor.
NO installation WITHOUT prior geobiological examination!
Earth radiation protection is only available after a sleeping place has been measured. In order to guarantee the quality you have come to expect from GEOVITAL, we only provide radiation protection after the sleeping place has been measured by a GEOVITAL geobiologist. There is always a risk that the radiation protection will not work in the end or will not be able to work. That is why we want to know in advance whether everything is OK and, if not, what needs to be changed so that the radiation protection can work as desired. This is not only in our interest, but also in the interest of the users.
GEOVITAL gives you a health guarantee
You won't get this from any doctor! We are so convinced of our earth radiation protection that GEOVITAL offers a 3-month health guarantee. An improvement of the symptoms MUST occur within the first 3 months...if not, the complaints have nothing to do with the earth rays and you can send the radiation protection back to us. This means: You can only win… :o)))

Upon return, only a cleaning fee of 45,- Euro will be charged, as the cover fabric will be replaced and the radiation shield cleaned and disinfected.
However, since we have only just under 2% return in the whole year, this very rarely comes into play. This shows how well the radiation protection works.


By means of a biophysical measurement, a functional test can be carried out using an angle rod.
Always double-protect double beds!
Vacuuming:
Since the dipolar oscillating circuit systems have the peculiarity of attracting ionised particles in the air, which is what the television does, these particles deposit themselves on the radiation shield. These particles slow down the radiation shield and at some point the resistance would be so great that the radiation shield would stop functioning. This would happen sometime after 6 - 8 months. The radiation shield is not broken then... it just can't fight it.
To prevent this from happening, we recommend vacuuming the radiation shield with a normal hoover every 6 weeks, or after 3 months at the latest.

If you take these things to heart and stick to them, you'll have great radiation protection....
How can I order radiation protection?
2 possibilities: Either you consult a geobiologist...then you get a patient login and can order the radiation protection that suits you here.
Or you can come to us for a geobiology seminar..
Learning for yourself is never wrong... :o)))